Logis des Douves de Tiffauges
BOOK HERE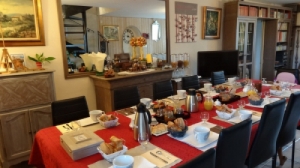 Warm and welcoming bed and breakfast in the city of "Barbe-Bleue"
Located in the heart of old Tiffauges, near Gilles de Rais' fortress, best known as "Barbe Bleue", the house has a rich medieval past : it used to be a watch tower at the entrance of the village. Now, it's a modern and comfortable home in which Françoise and Philippe LECOQ welcome you.
The 5 guest rooms have a private bathroom/wc.

Included in the price of the room, you will be served a hearty breakfast in the morning, mainly composed of homemade products (with local organic flour) : bread, croissant, pain au chocolat, brioches, jams, apple juice ...
Meal trays will be proposed to you the evenings when the restaurants of Tiffauges are closed. On reservation, we can organize tables d'hôtes.
You will be able to order picnic bags to fully enjoy your outings.
Additional services availables upon reservation : SPA, sauna.
Close to Puy du Fou
Located 25 minutes from the Puy du Fou, on the road from Cholet to Noirmoutier, in the heart of the three provinces Poitou, Anjou and Brittany, the location of Tiffauges, allows many cultural and tourist activities.
Hikers and bikers welcomed
Our house is on the circuit N°20 of the departmental cycle routes, and close to the footpaths along the Sèvre Nantaise.